Features
---
Fusing ancient Japanese tradition and contemporary art
We've linked up with our Tokyo/Berlin based friends at Childhood, Calm & Punk aka. C.C.P. for the 'Aizome Collection'. Fusing ancient Japanese tradition and contemporary art from international artists, Alexandre Bavard aka. Mosa, Aki Yamamoto, Laurie Herman & Nick Atkins, the collection comprises of a hoodie, long sleeve and short sleeve t-shirt, trouser, mask, Riso printed zine and four Riso printed limited editions. Join us in-store Thursday 21st October to celebrate the launch. Music provided by Will Lister, beers supplied by Crate Brewery.
---
---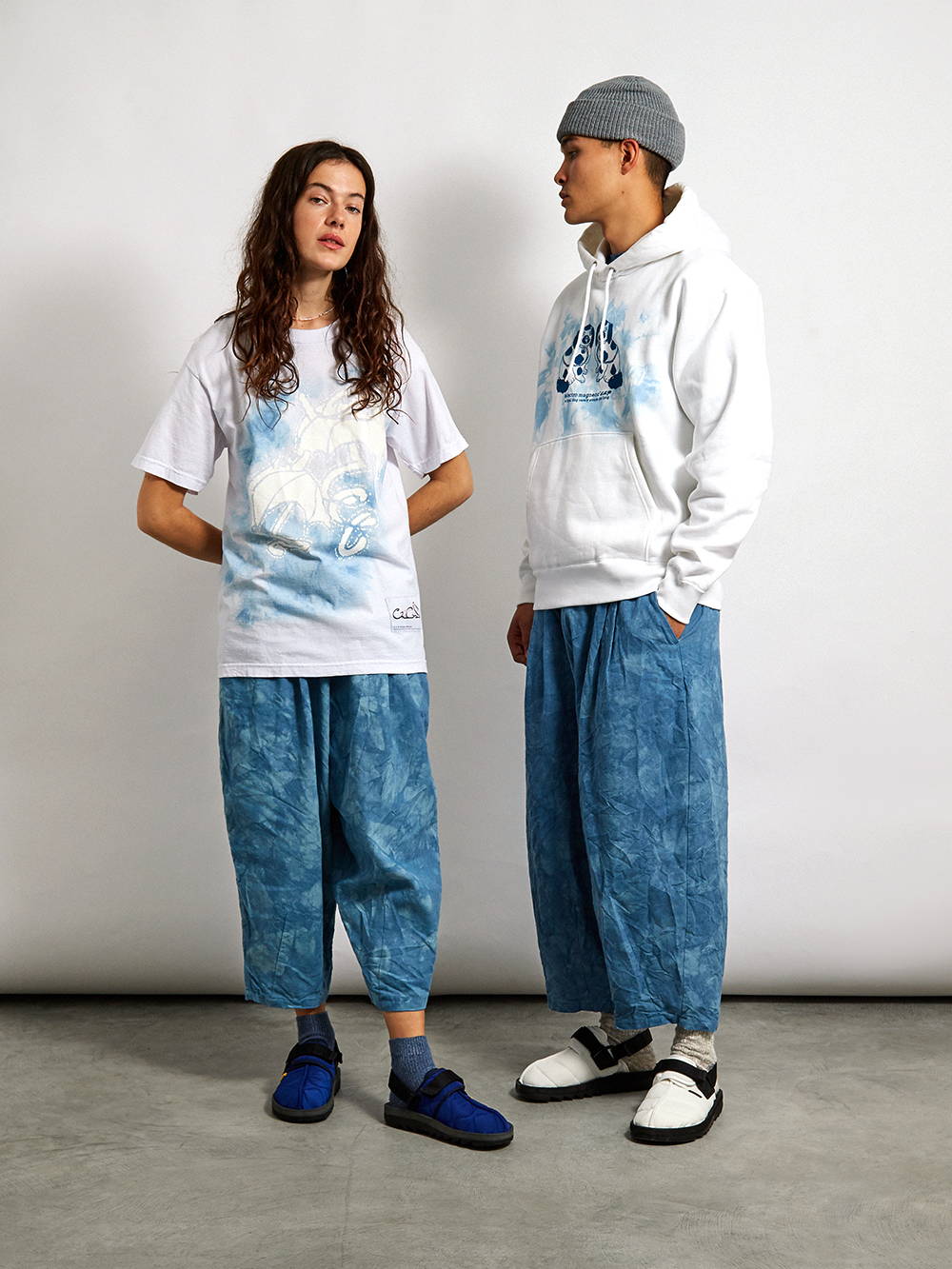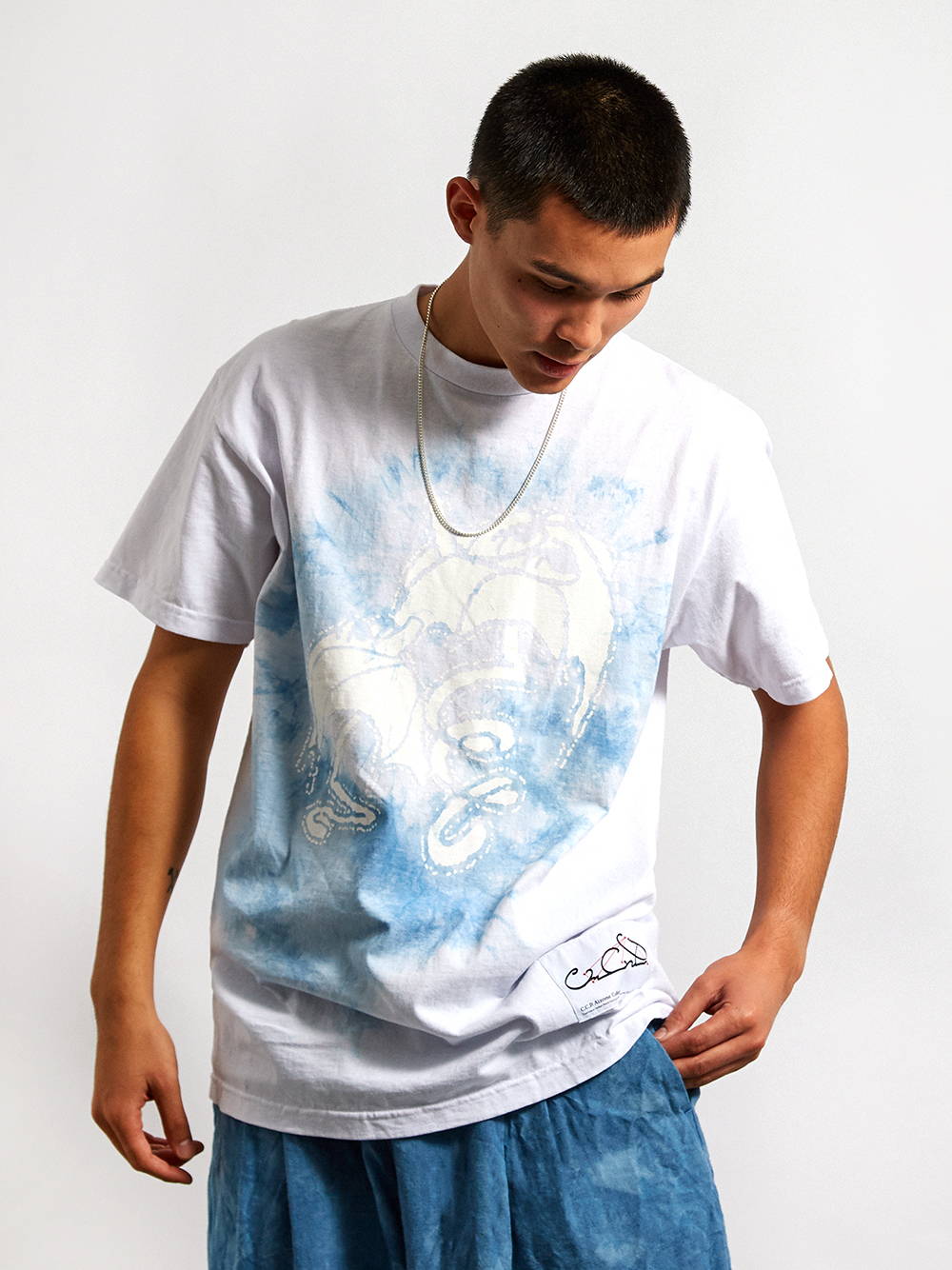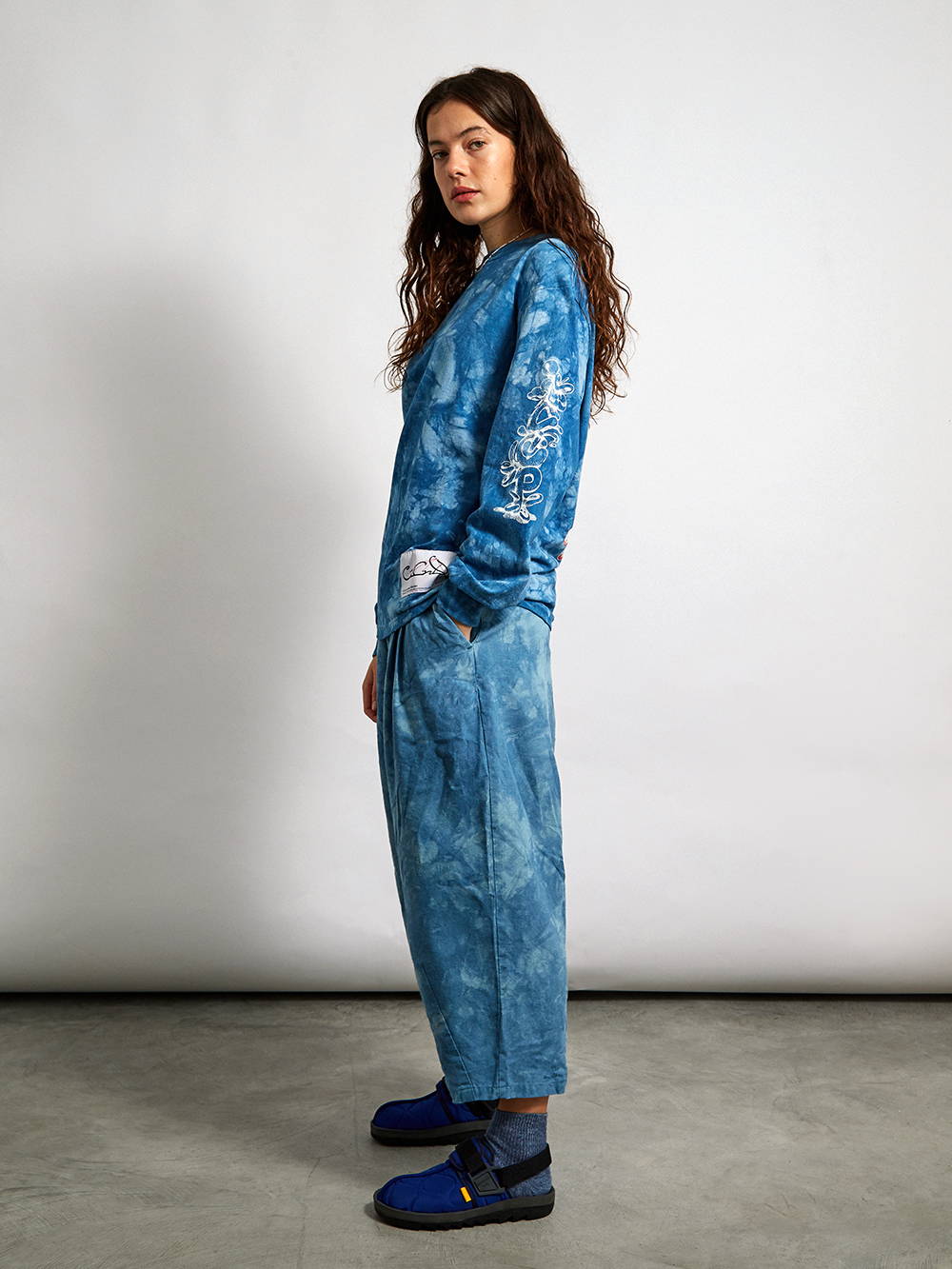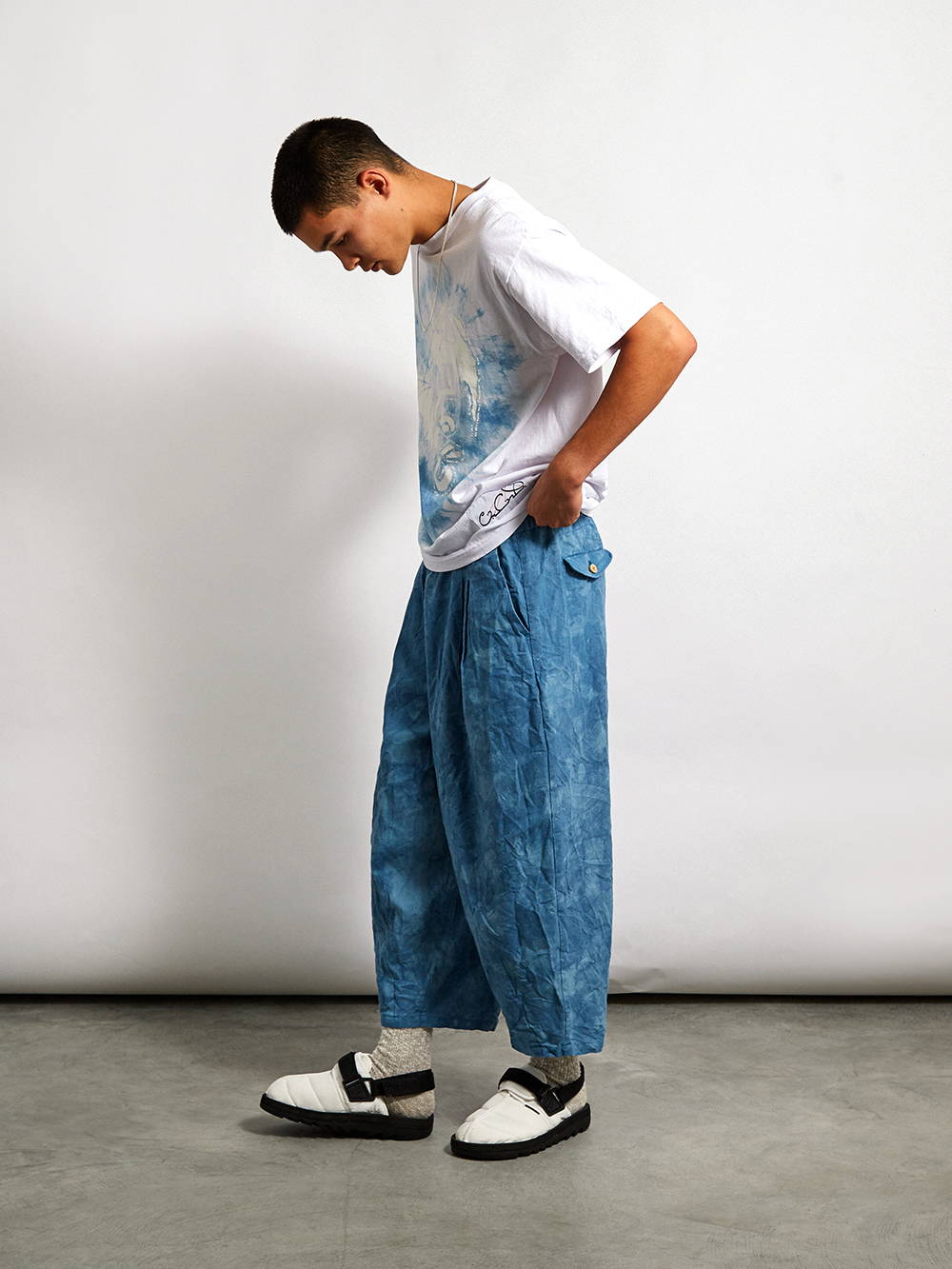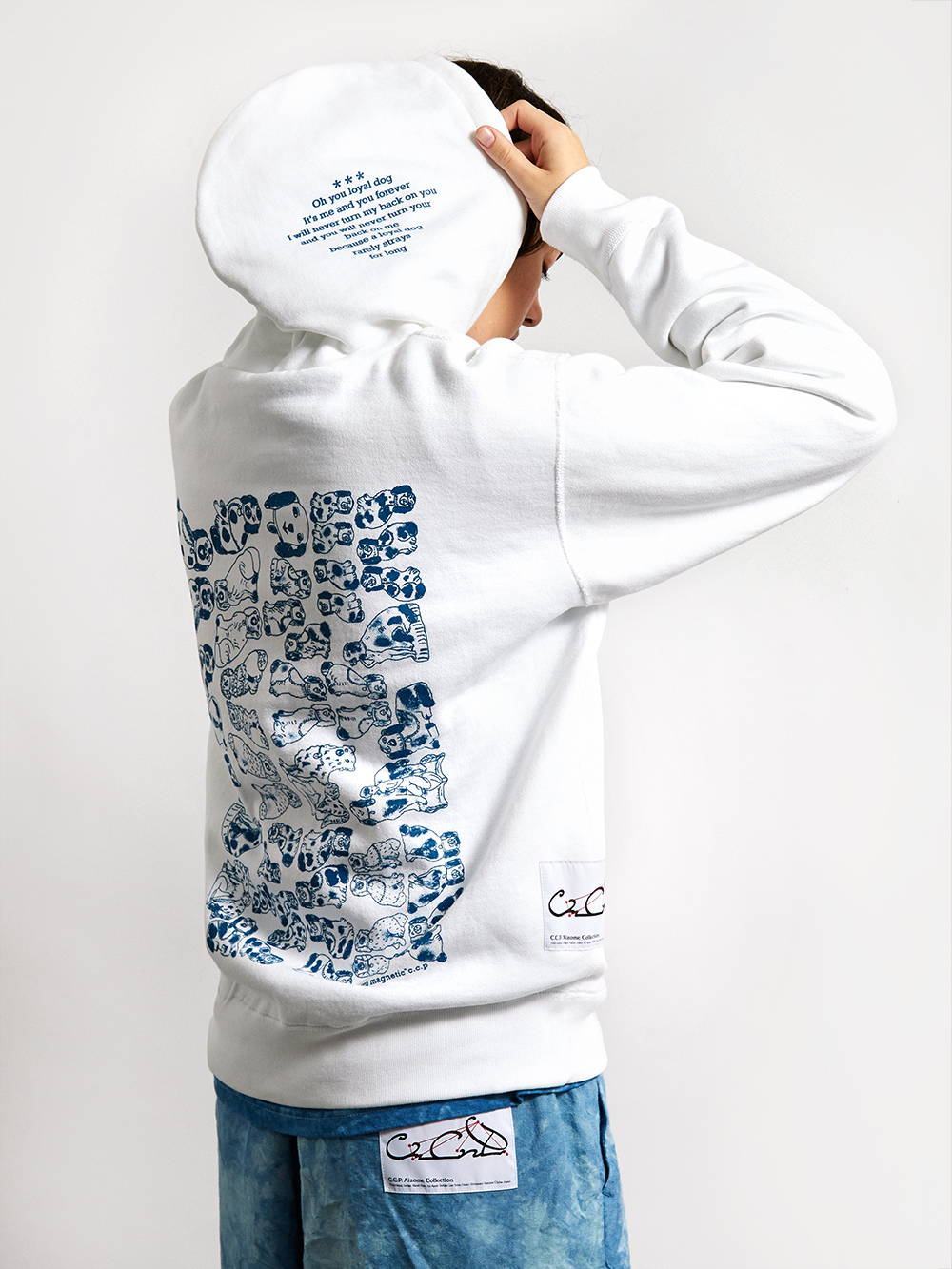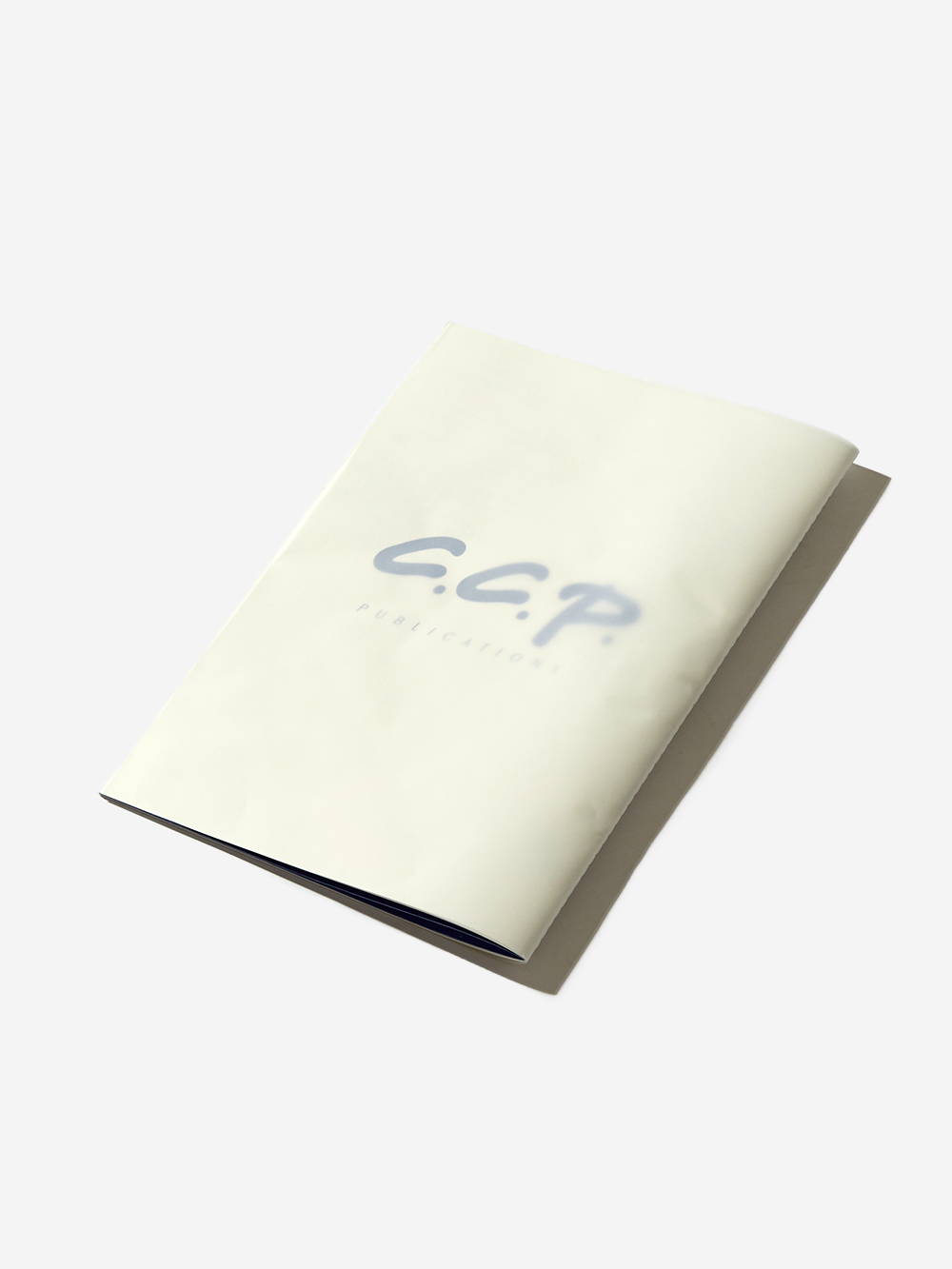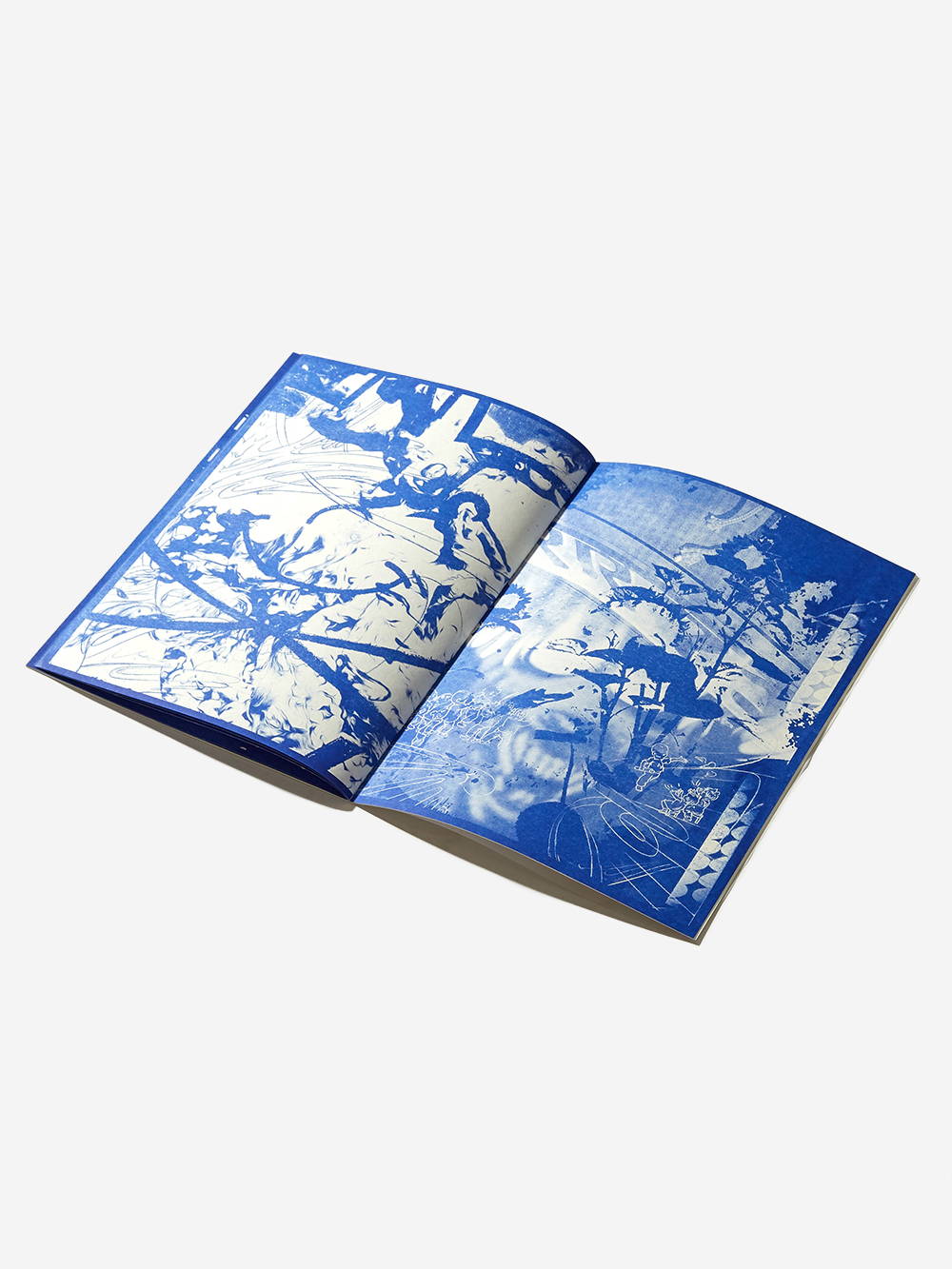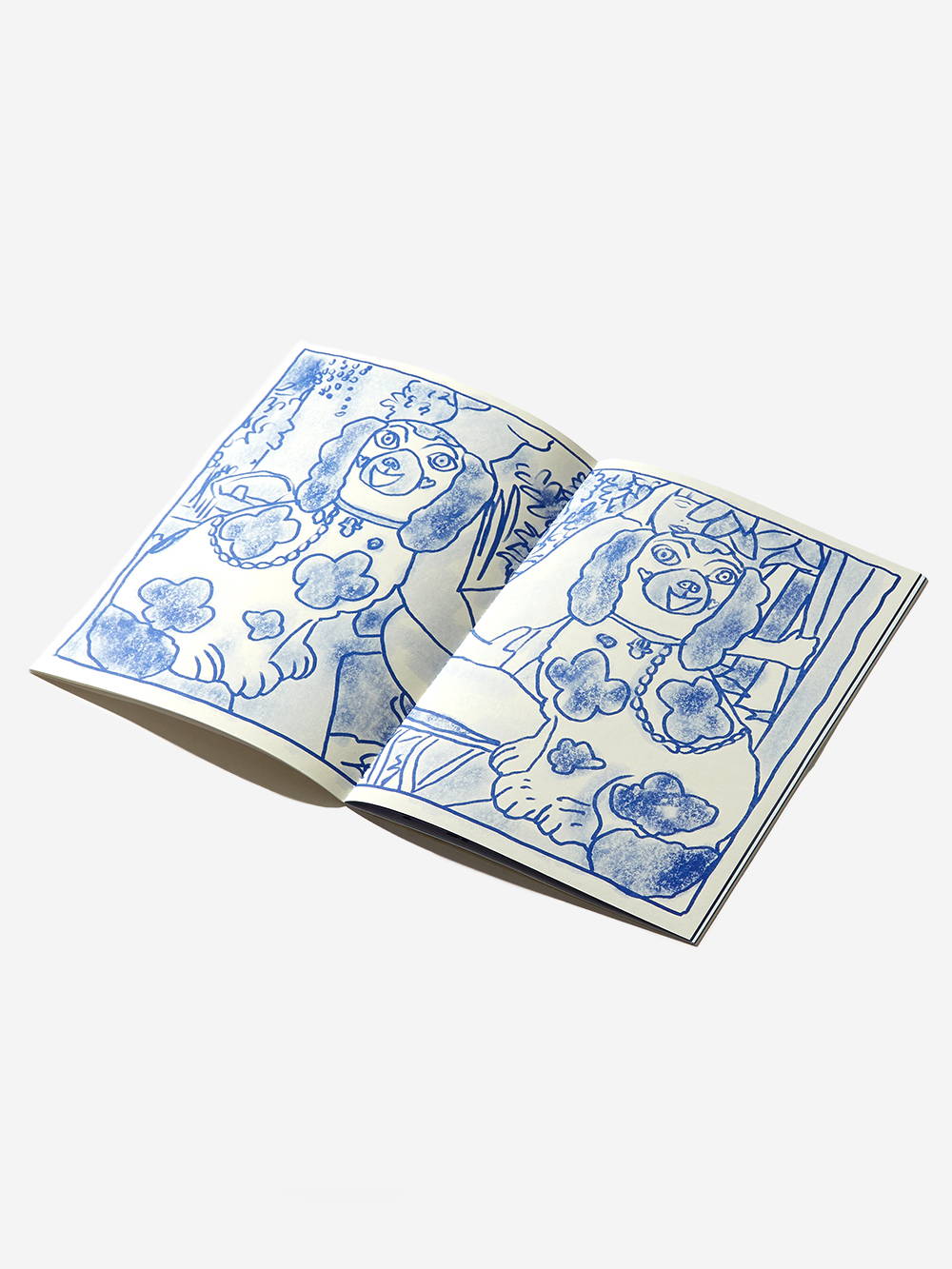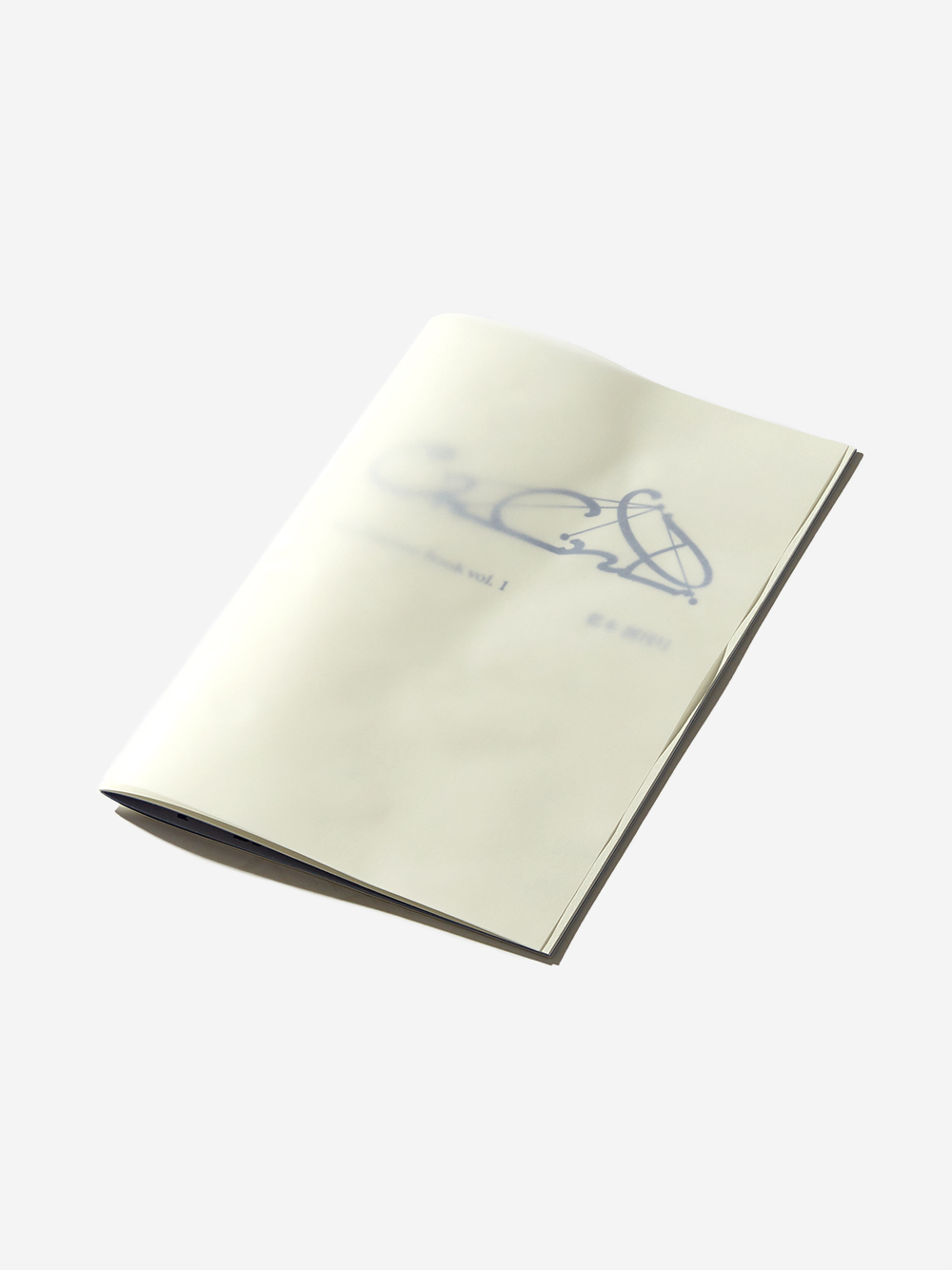 ---
---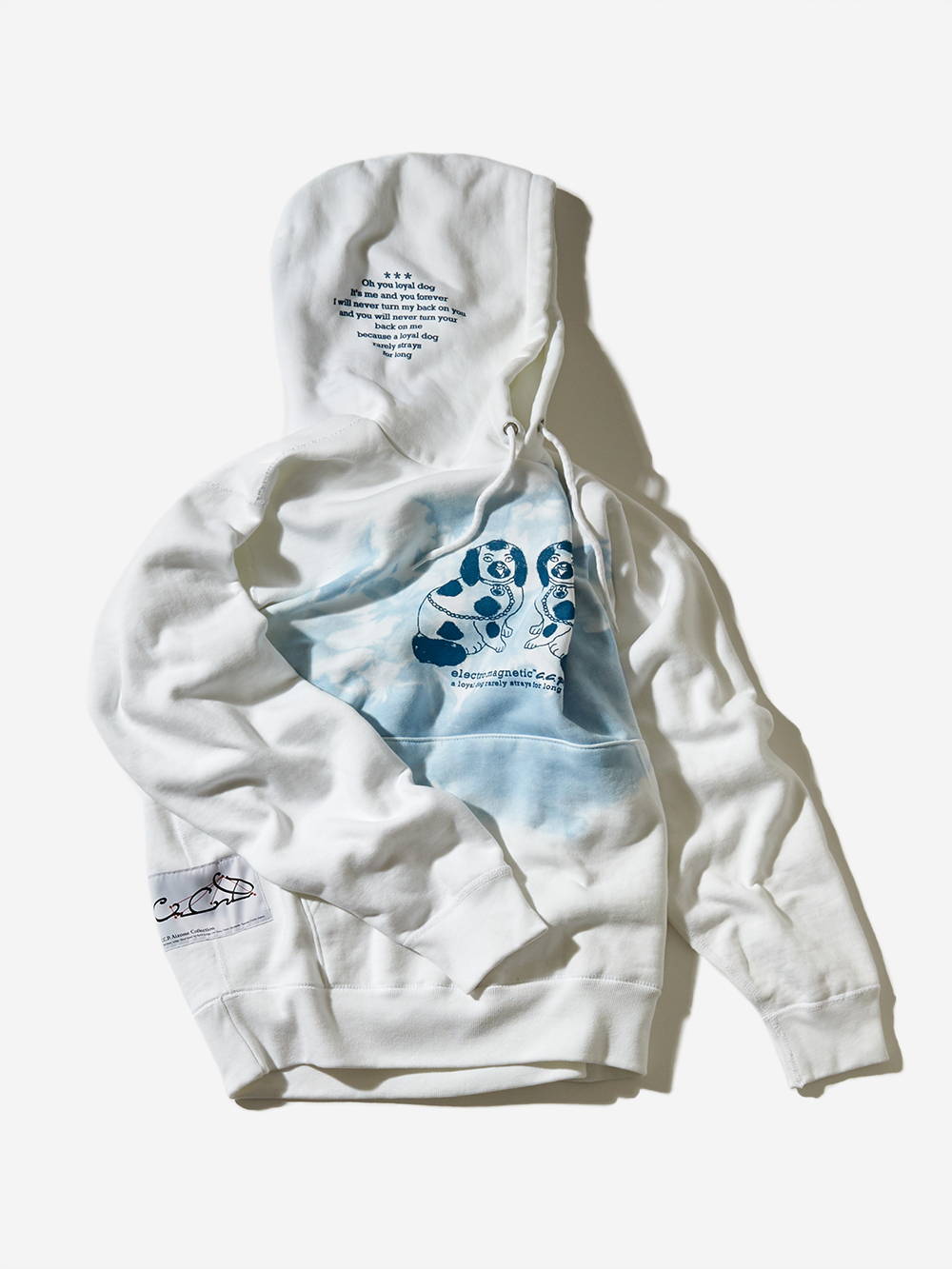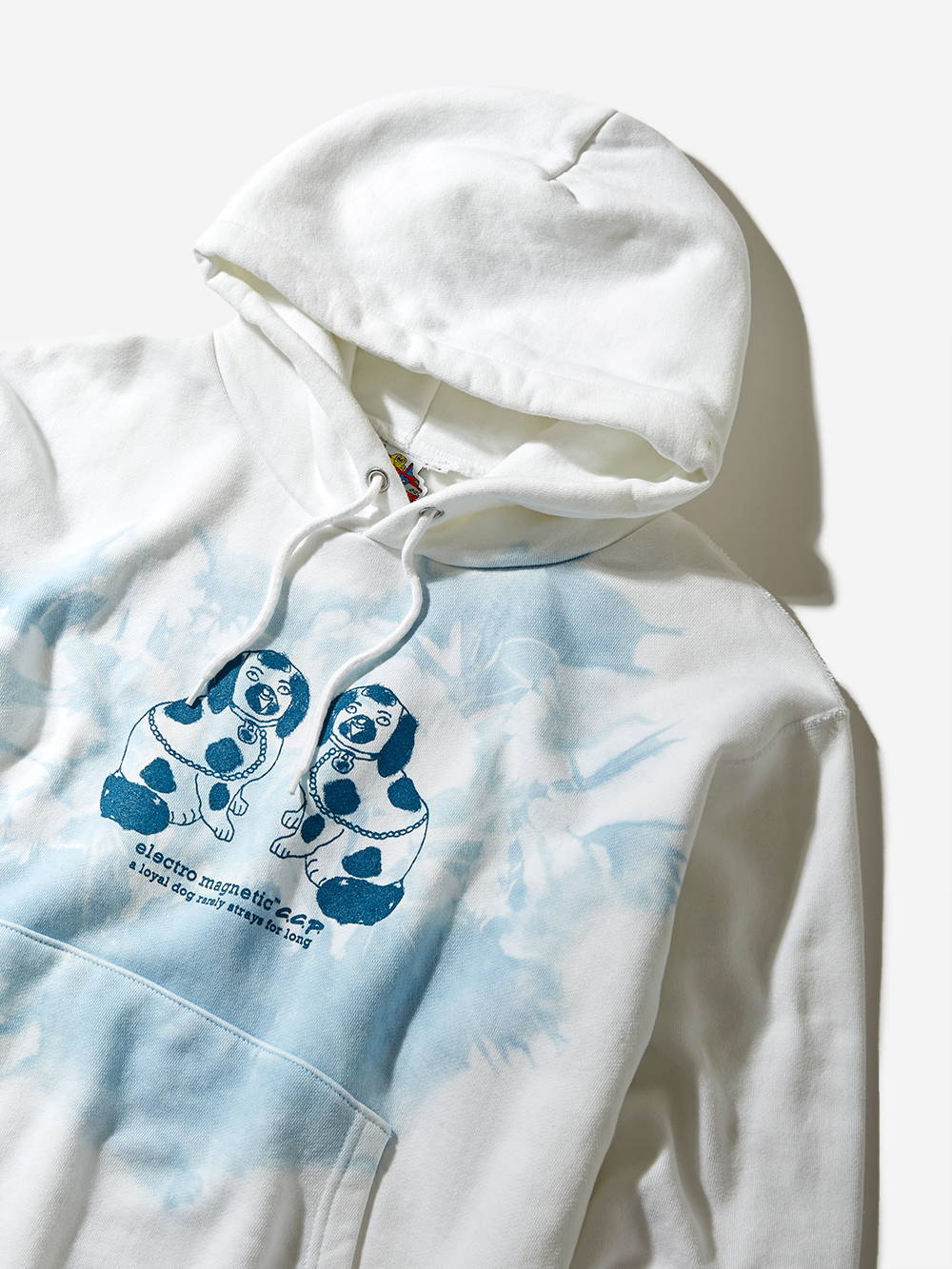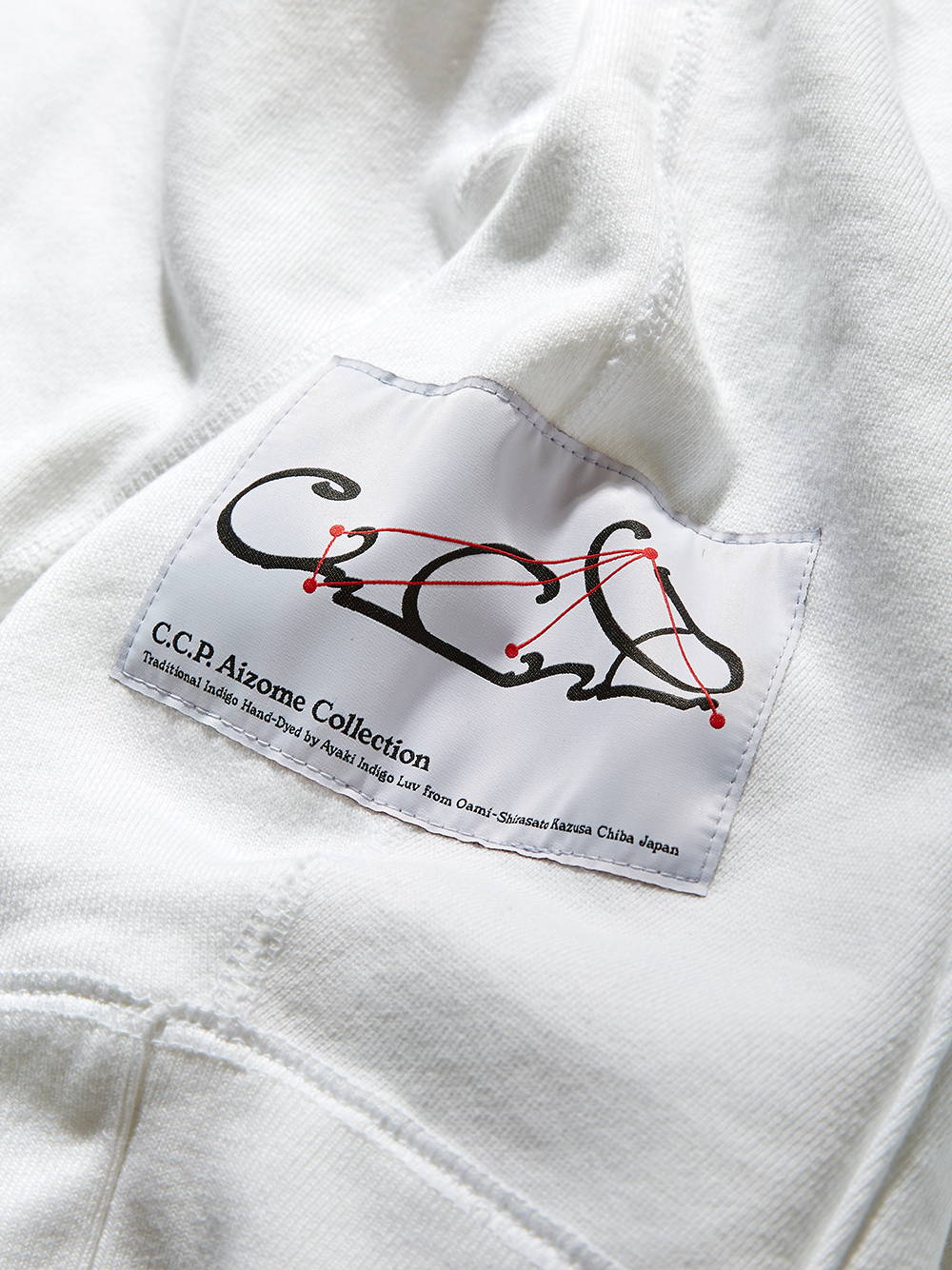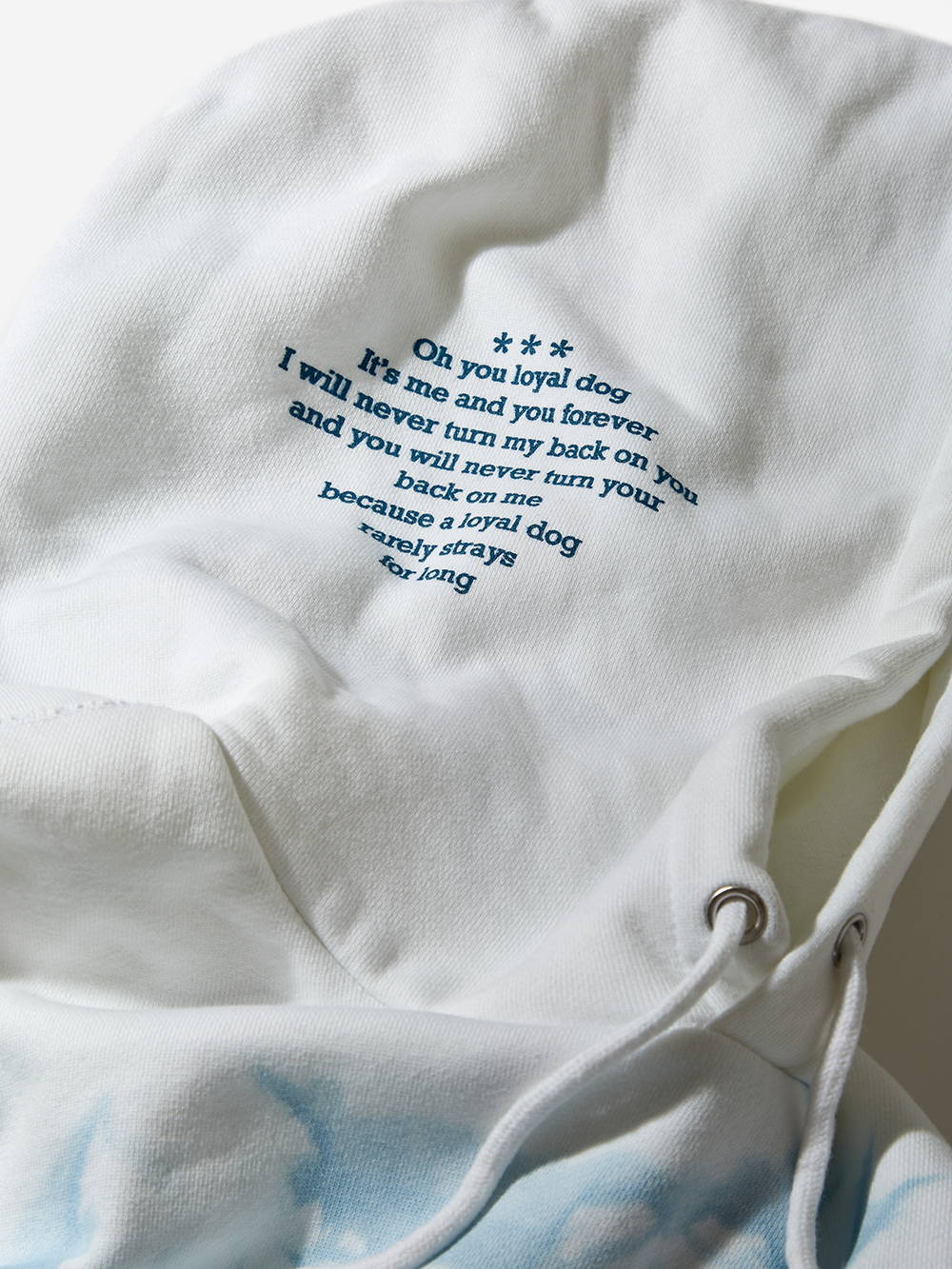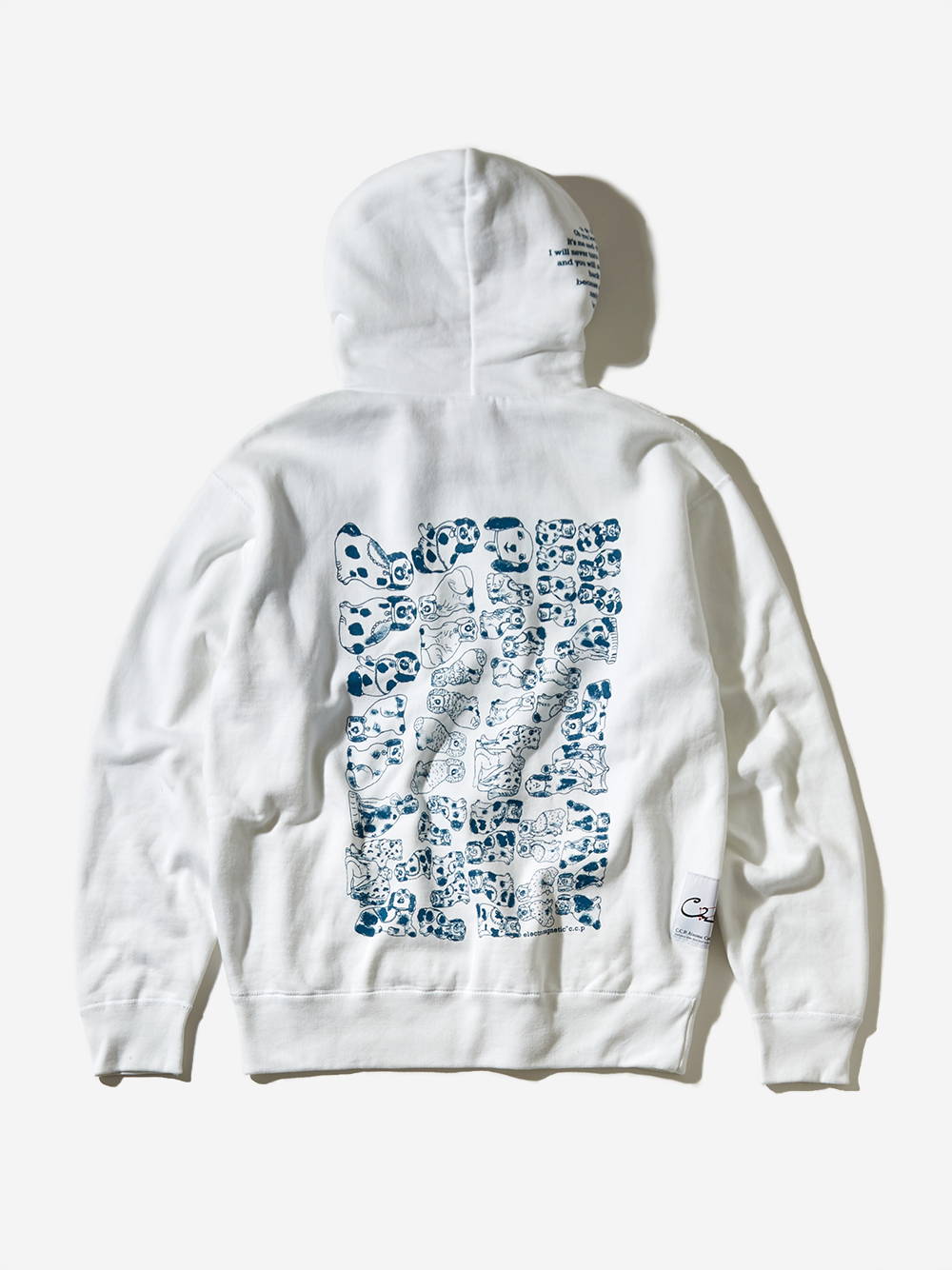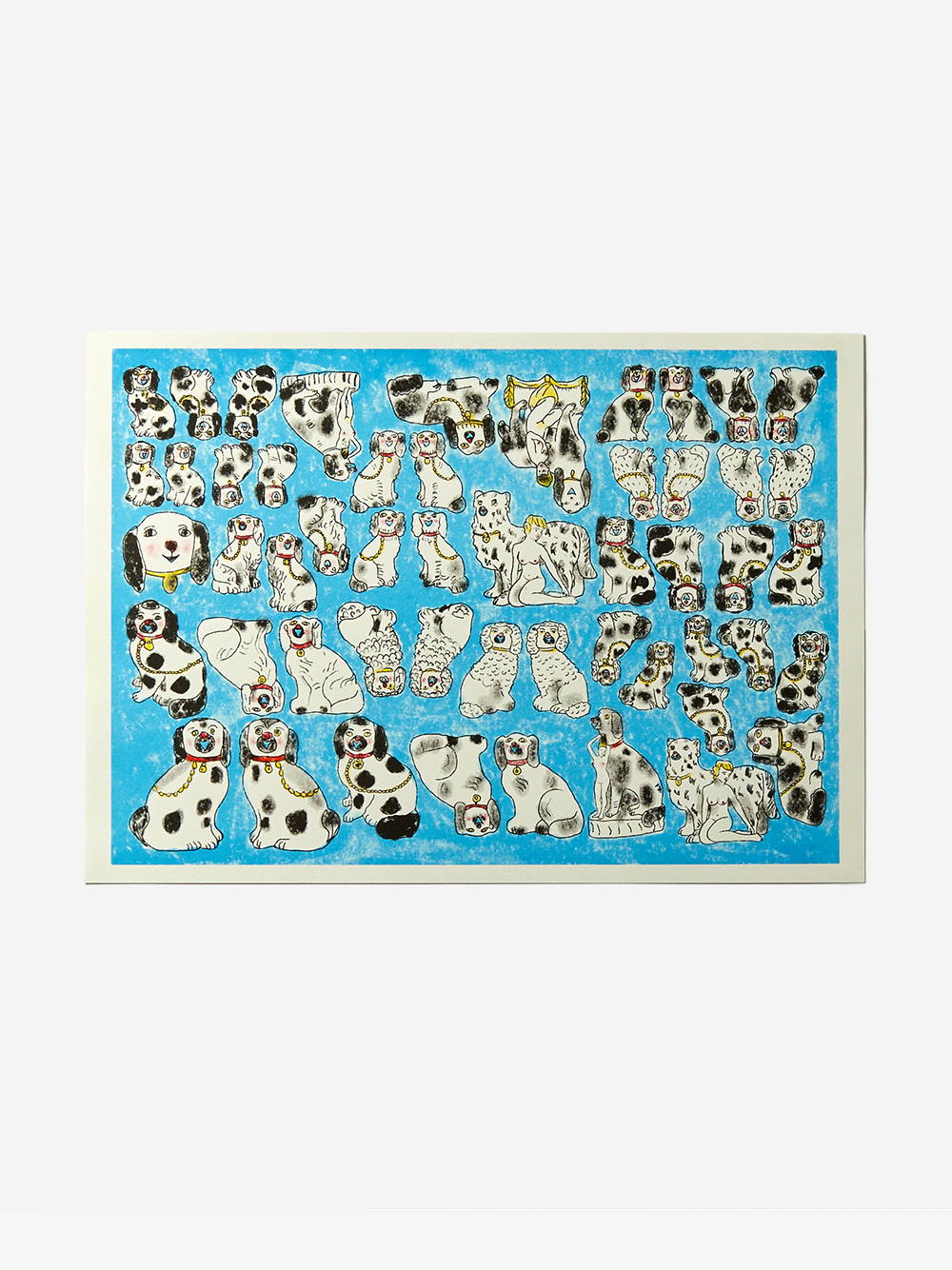 ARTIST_PROFILE
Nick Atkins, New York
Nick Atkins lives and works in New York. His work, which integrates painting, film, sculptural installation, and fashion, draws on historic references, pop iconography, and his own idiosyncratic visual vocabulary. Both playful and arch, his practice employs techniques of appropriation and montage to disrupt recognisable imagery and storylines.
His large-scale, site-specific installations gesture at world building, often populated by characters and kinetic objects from his imagination. With his sculptures, he frequently contrasts scale and mass with fragility and temporality, using materials and themes that signal ecological concern.
In a wink to the digital realm, his crude, humorous paintings often depict the collision between cartoon characters-expressing joie de vivre and sexual deviance-and real world malaise.
---
---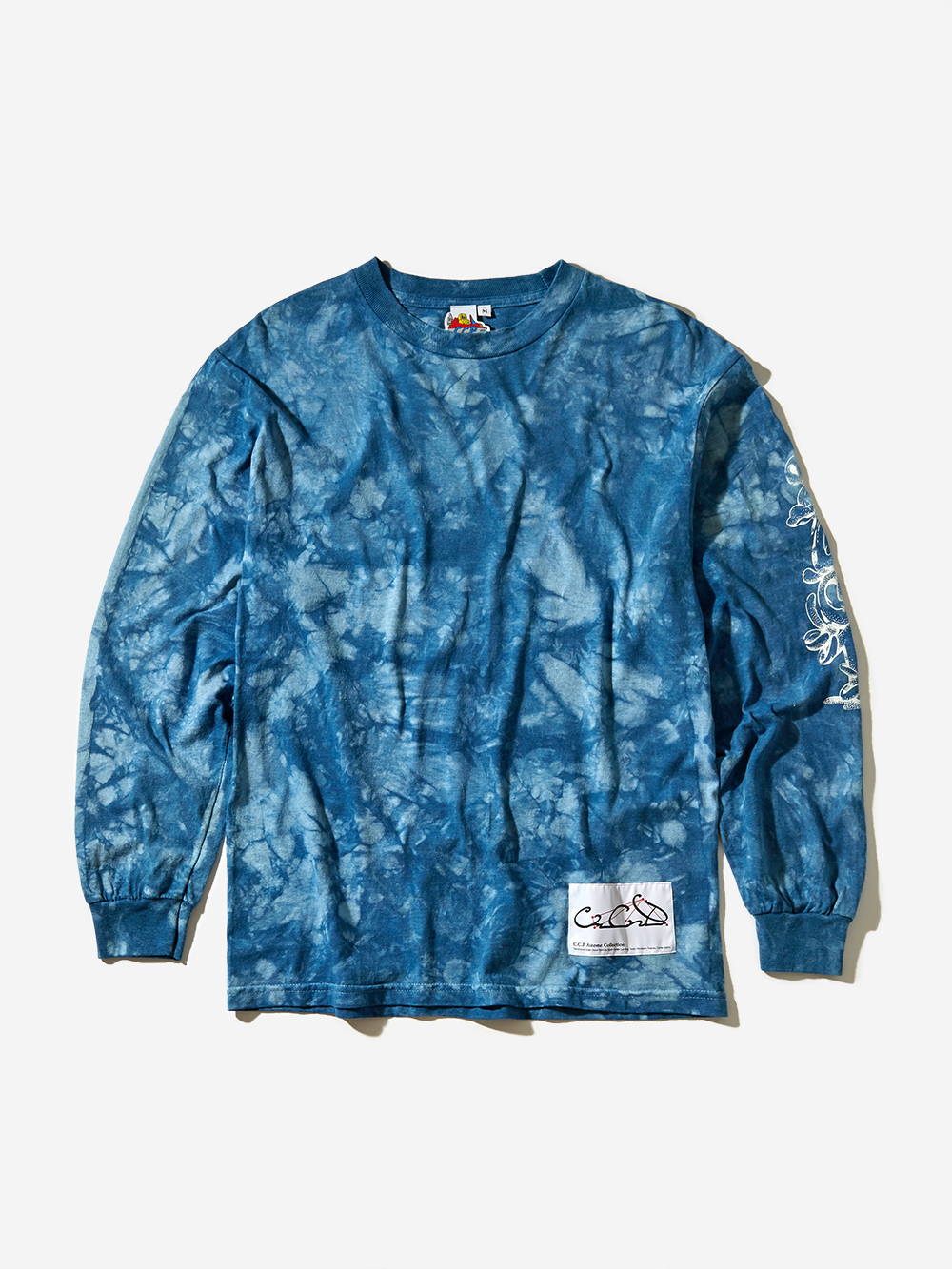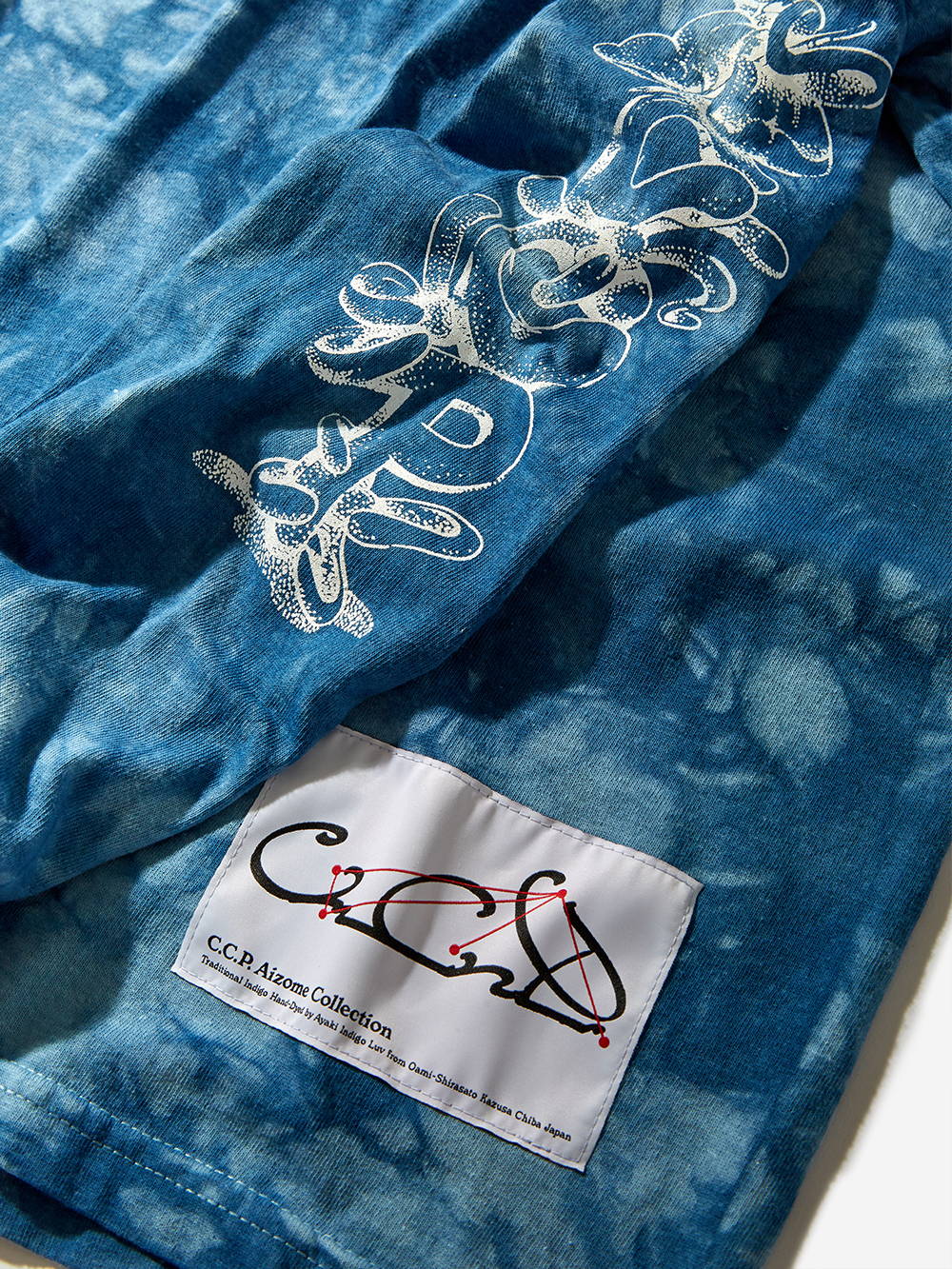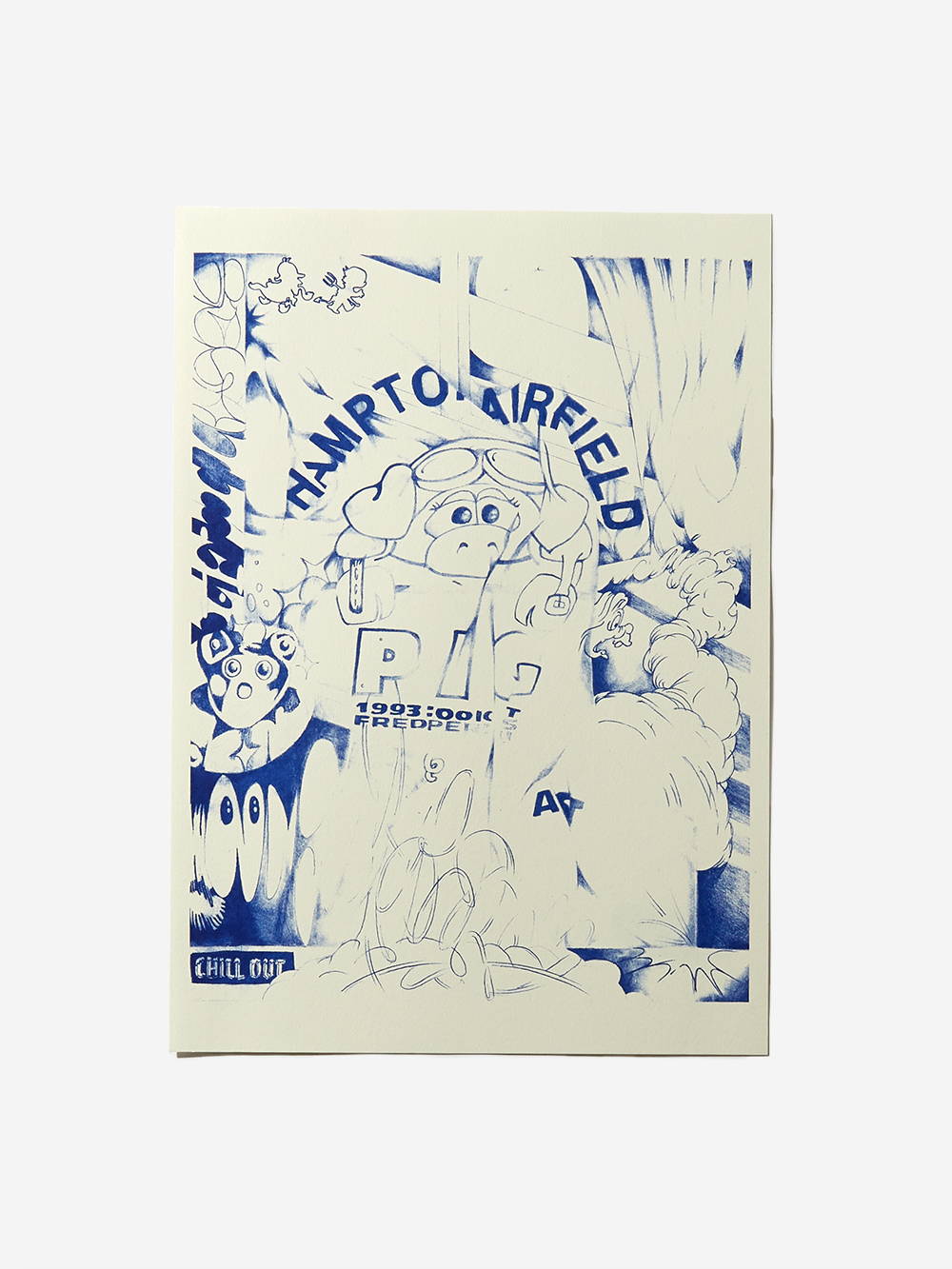 ARTIST_PROFILE
Laurie Herman, Yorkshire
Inspired by animation, comics, film and black comedy: Laurie goes between expressive, abstract drawing, digital collaging and surreal illustration. Drawing from the visual aesthetics of 80's film graphics, her work explores a place between humour and the uncanny.
---
---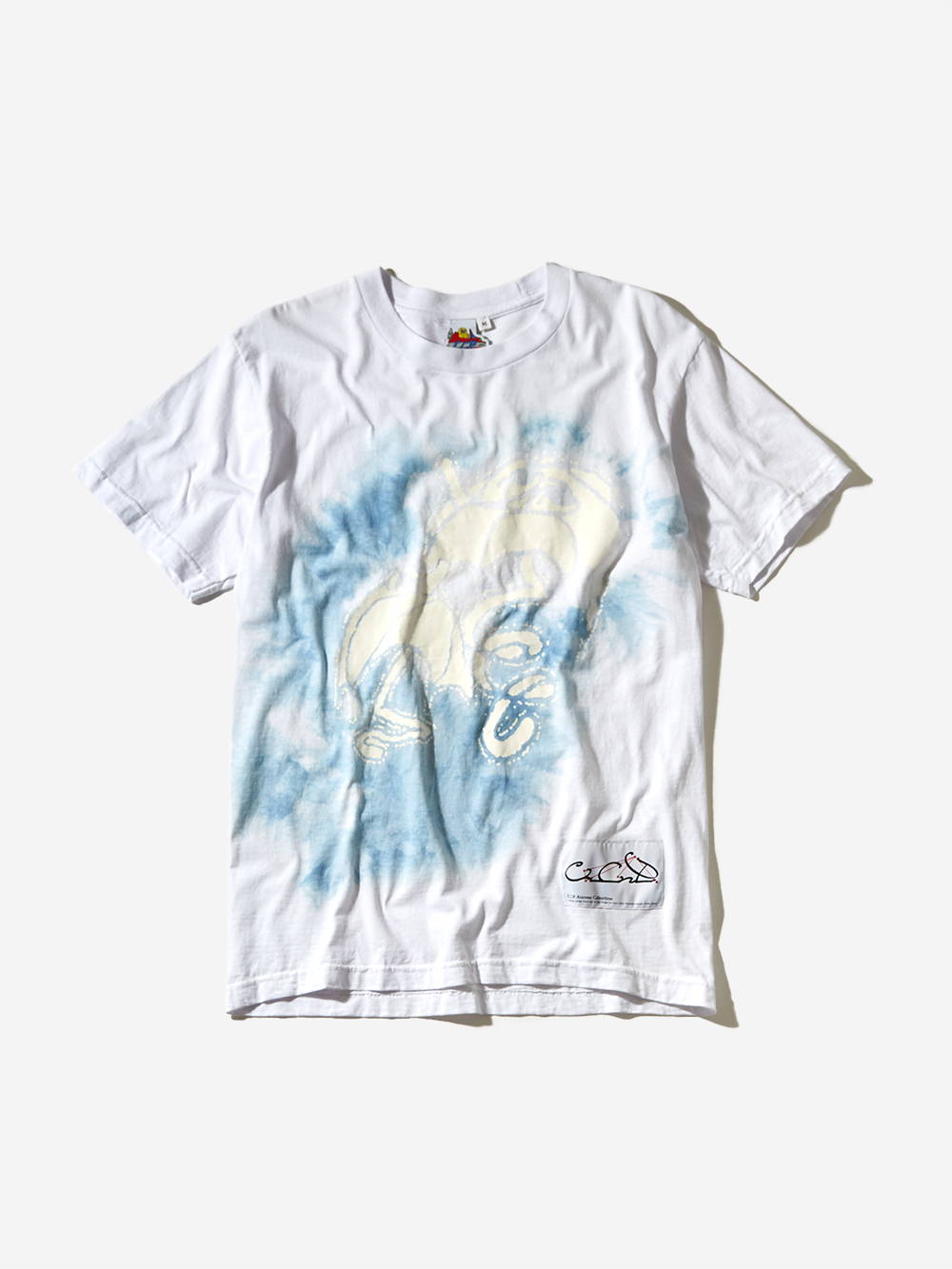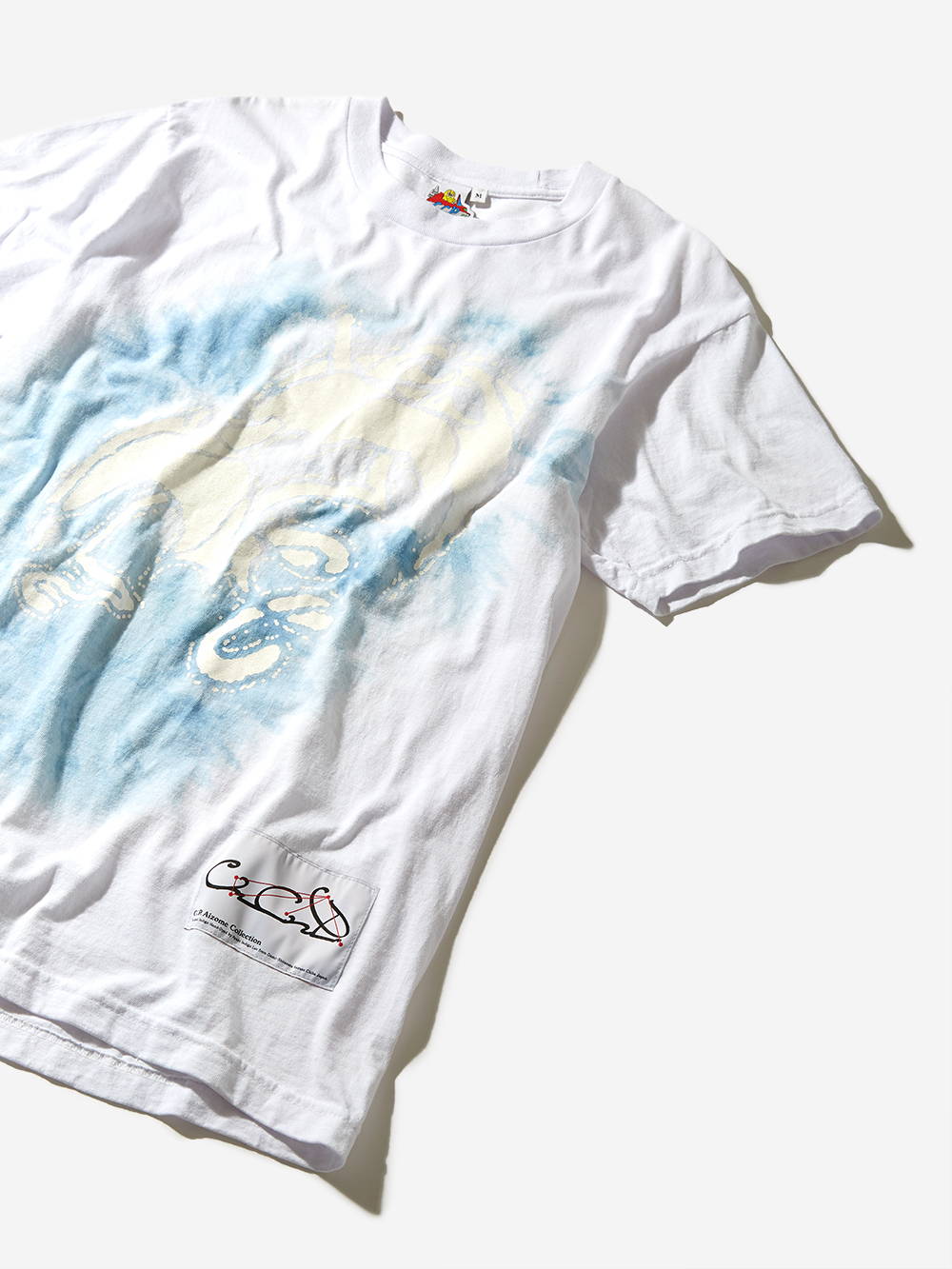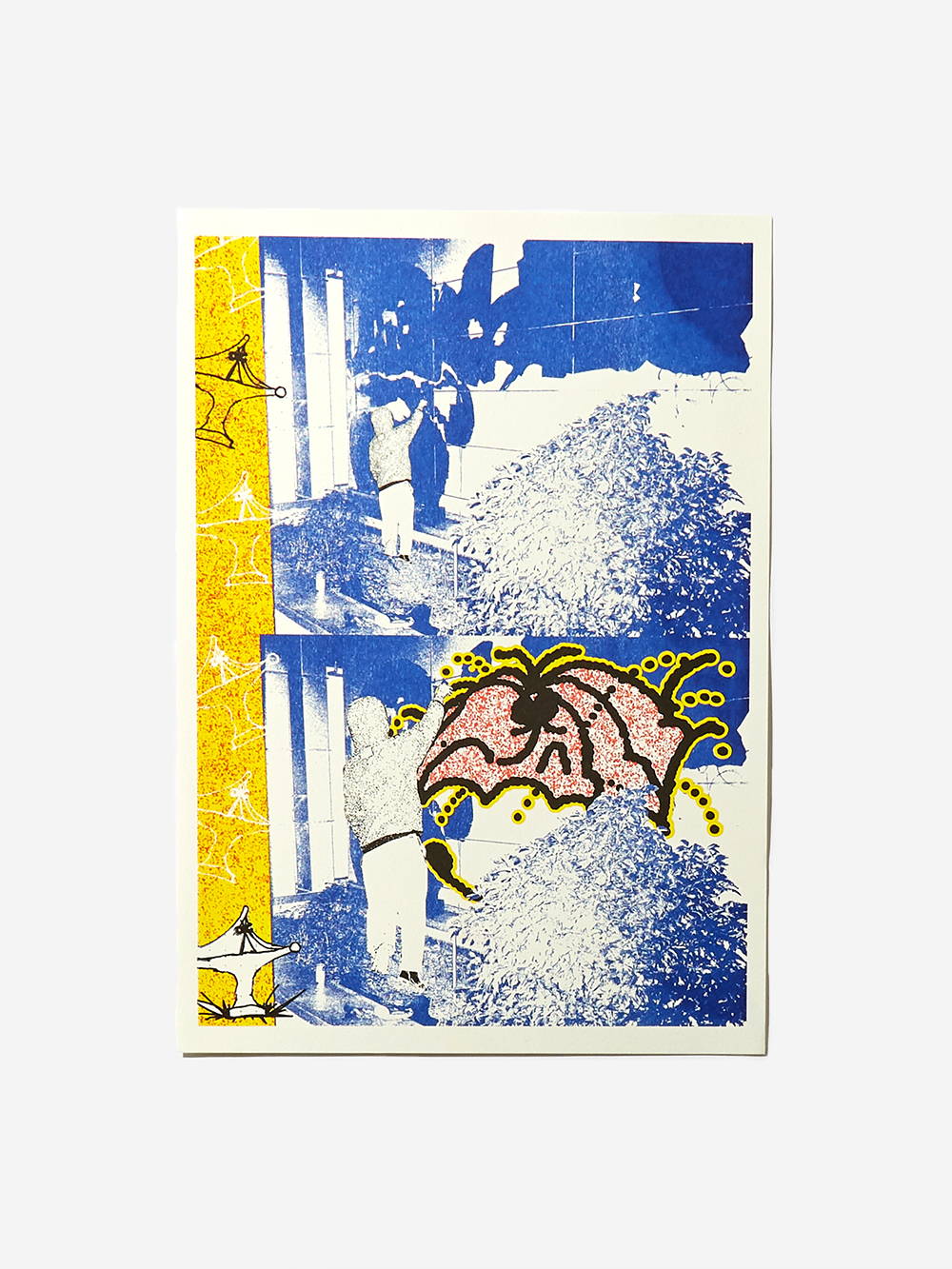 ARTIST_PROFILE
Aki Yamamoto, Tokyo
Aki Yamamoto, born in 1997, is an artist based in Tokyo. During his teenage years, he was heavily influenced by graffiti culture, and that is clearly shown in his early works such as action photos of graffiti and city exploration, ZINEs featuring his daily snapshots, drawings, and texts, cement sculptures inspired from his drawings and blueprints.
He is currently working on anthropomorphic paintings focused on nostalgic flashbacks that can be triggered when you see discarded things on streets such as umbrellas or chairs.
---
---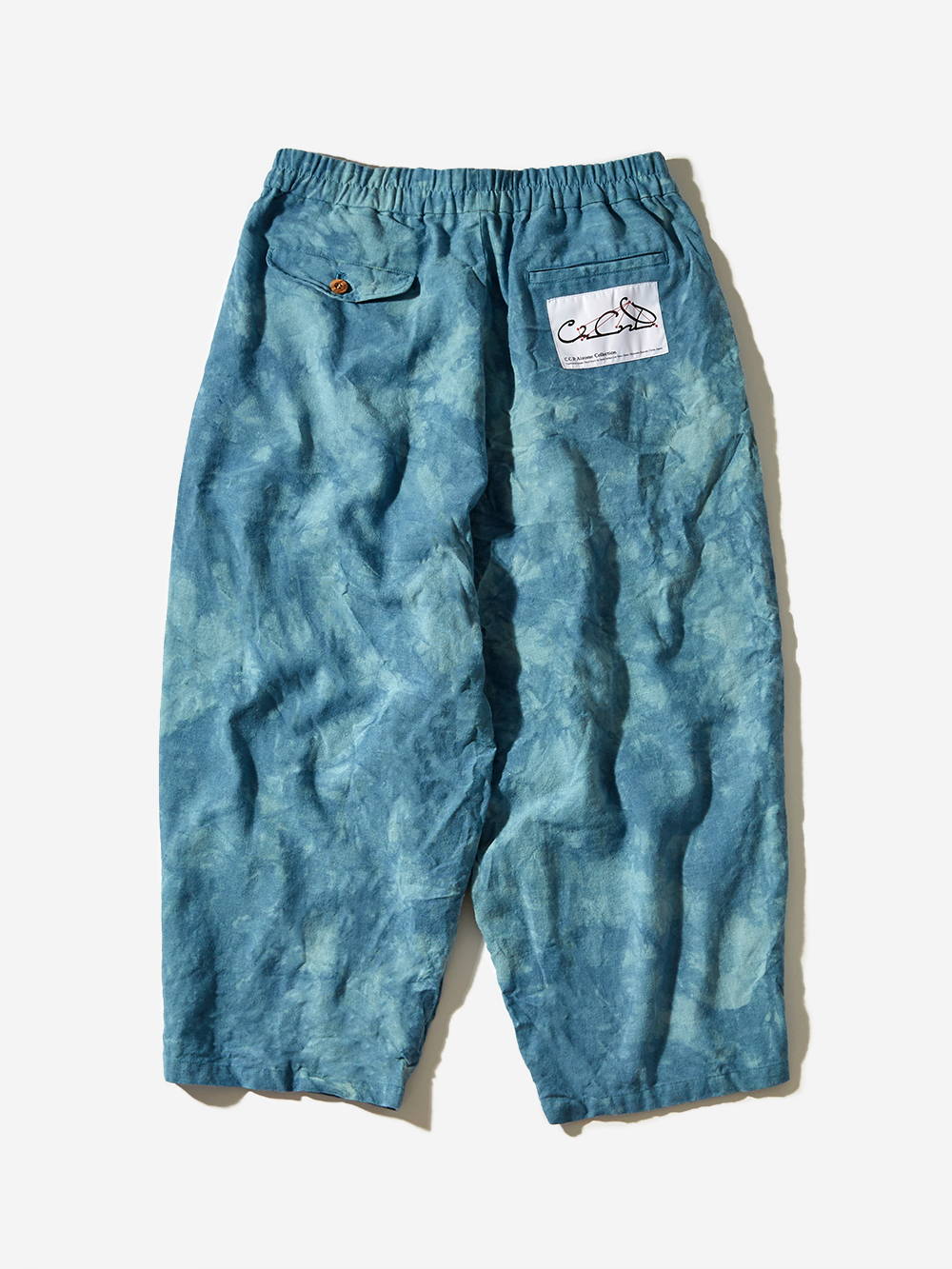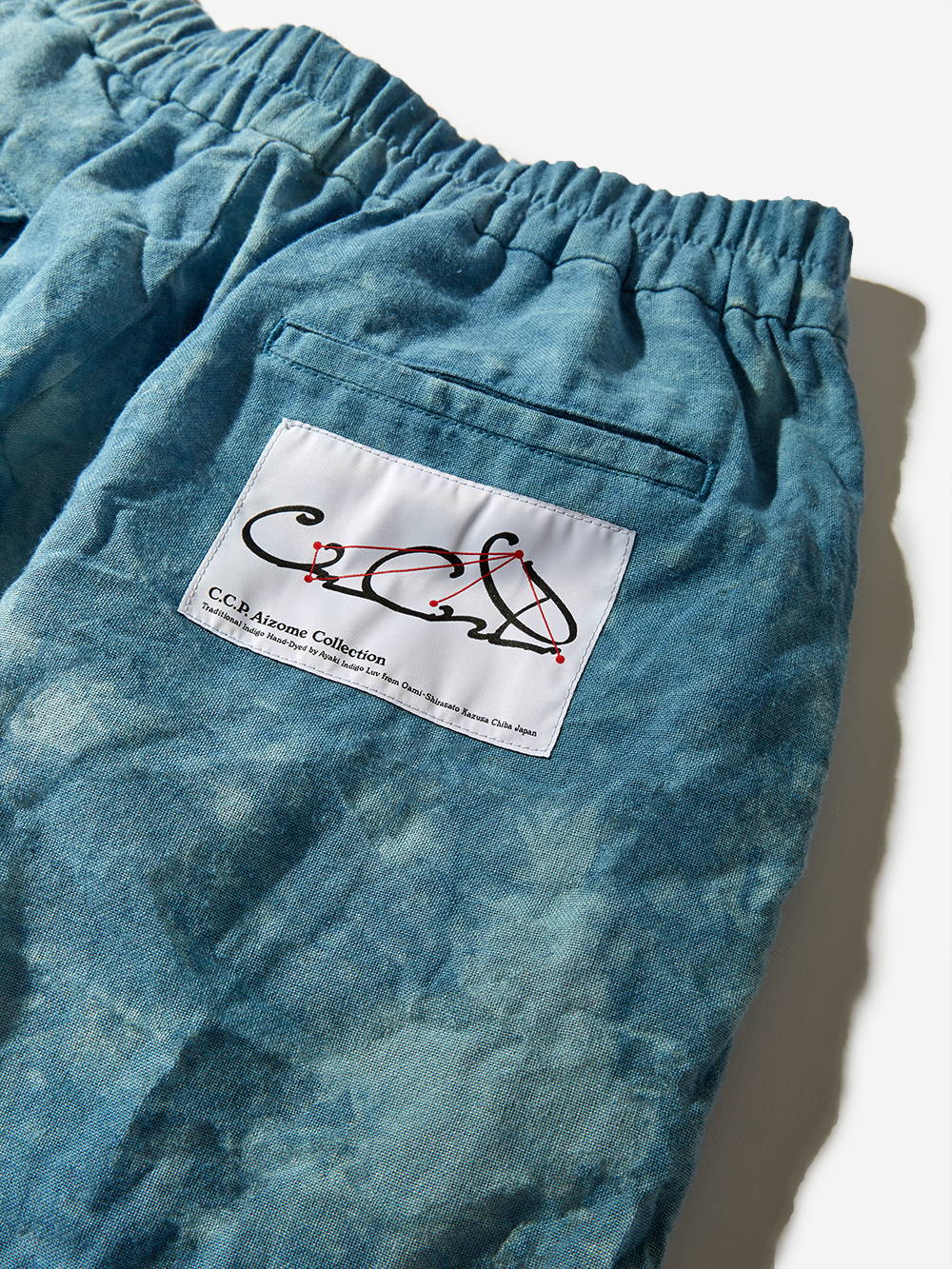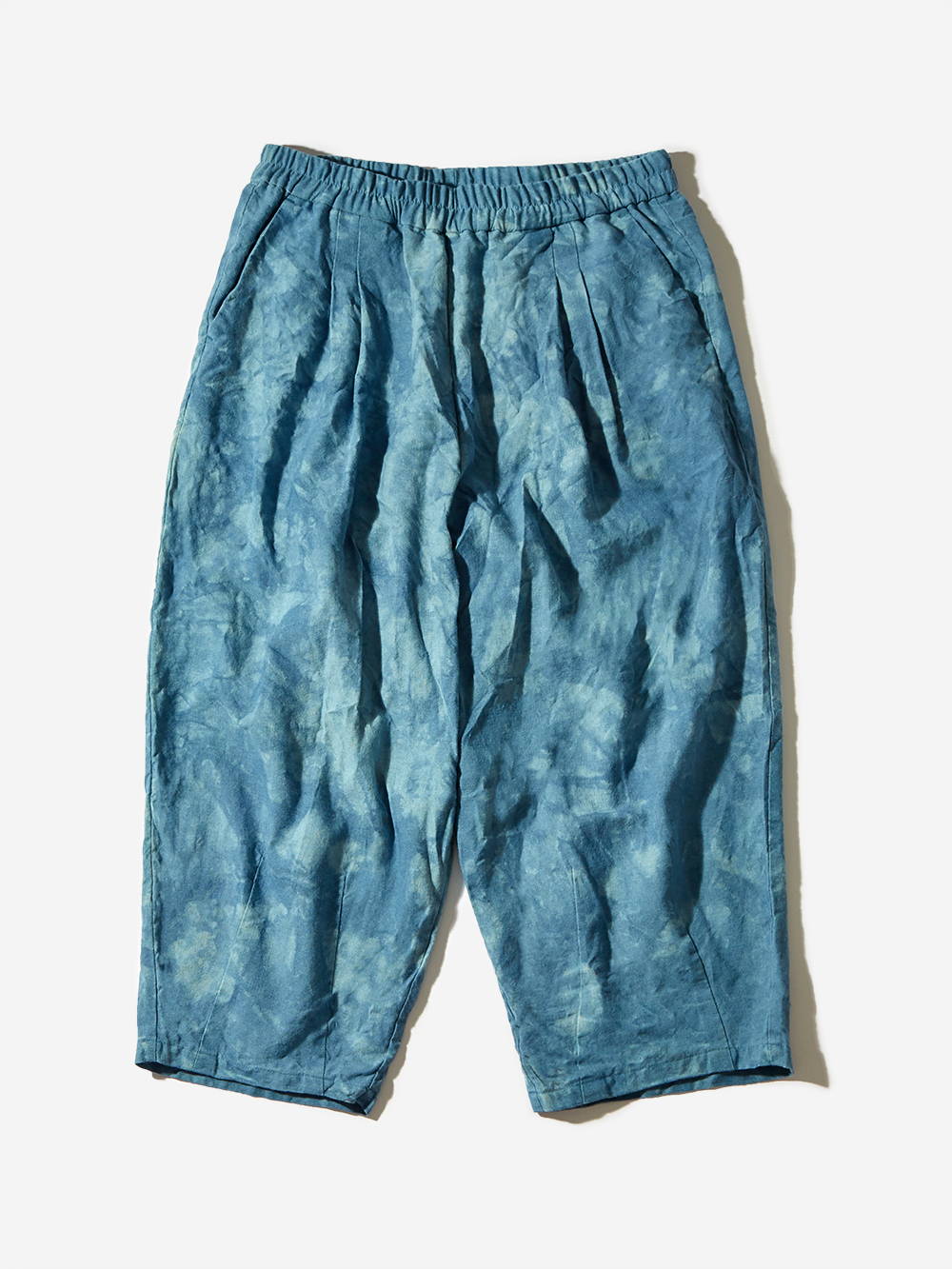 ARTIST_PROFILE
Alexandre Bavard aka. MOSA, Paris
Creator of The Aizome Collection Logo.
Born in 1987, Alexandre Bavard aka. MOSA studied at the École Boulle and the Lyon School of Fine Arts. It is this dual journey, between decorative and visual arts, that has led him to explore different mediums since the beginning of his practice. Coming from the culture of graffiti, Mosa began by working with painting & drawing, gradually expanding into performance, sculpture and installation. Being explorer & collector, Bavard unifies his various abilities to orchestrate objects of the ready-made, activating the key sense of exposure in the audience's experience and the juxtaposition of extraordinary materials.

"Similarly to the way in which impressionist painters took their easels on their backs and out through the streets of Paris, looking for suitable sites or appropriate scenes of inspiration, Bavard walks the streets of every city to find these sites that evoke attraction to a certain social and cultural phenomena; the wasteland." - MOHABIT, Gr_und
---
---
---
---
All pieces included in the C.C.P. Aizome Collection are unique handmade pieces, dyed with ancient techniques from Japan, sustainably utilizing only the power of nature. Aizome (Japanese. for Indigo) has been a big part of Japan's culture for centuries. The aizome studio C.C.P. collaborated with to create this capsule is based on the oceanside of Japan, Chiba. The Ayaki Indigo Luv Studio, is a sustainable lifestyle driven workshop run by individuals using the indigo dyeing technique Sho-Aizome, which is a 100% sustainable dying method. This technique was used during the Muromachi period (A.D. 1500) and is the most ecological way of indigo dye, since all ingredients are biodegradable. To create the indigo dye liquid, "Sukumo" , composted indigo leaves and "lye" derived from wood ash are combined and gradually transformed due to the power of fermentation. To further enhance the fermentation process, the Sukumo gets fed with bran or shell ash for rich bacteria growth and nutrition. In the final step, the colour fastening, the dyed fabric is solely oxidised in water and air and fastened through the energy of the sun.
Through the natural process from plant to dye liquid in which only the energy from mother Earth is borrowed, the aizome method transforms and enhances the properties of the dyed garments, naturally increasing the durability of the fabric, adding antibacterial and odorless attributes.
The C.C.P. aizome collection fuses ancient Japanese tradition and contemporary art. The capsule features artworks by four artists, Alexandre Bavard aka. Mosa, Aki Yamamoto, Laurie Herman & Nick Atkins, designing artworks for the apparel capsule, 4 Riso printed editions & a riso printed publication, all exhibited in collaboration with Goodhood on the 21st-31st October, 2021 in London.
The C.C.P. Aizome logo and label for the collection is designed by parisian artist Alexandre Bavard aka. Mosa. The tie dye pattern for the Aizome Longsleeve is based on a rare dying technique graphically combined with an illustration made by Uk artist Laurie Herman. Made from a hemp/cotton deadstock fabric, woven by antique looming machines in Chiba, the tie dye aizome pants is handmade by C.C.P. collaborators Tsukada Studio, an independent cut & sew family workshop run by a couple of Ex-Yohji Yamamoto employees. The Aizome T-shirt is designed by Aki Yamamoto, a Tokyo based artist making use of a traditional yokai umbrella design, together with a specifically created "Ame (Rain)'' aizome dye. The Loyal Dogs hoodie is designed by New York artist Nick Atkins, visualising his humorous style and collision between cartoon characters — expressing joie de vivre and sexual deviance. Nick Atkins has previously shown works at the Mucciaccia Gallery and been part of The Newsstand in Ocean of Images: New Photography at MoMA, collaborated with Comme des Garcon and is part of the lead Supreme design team.
---
---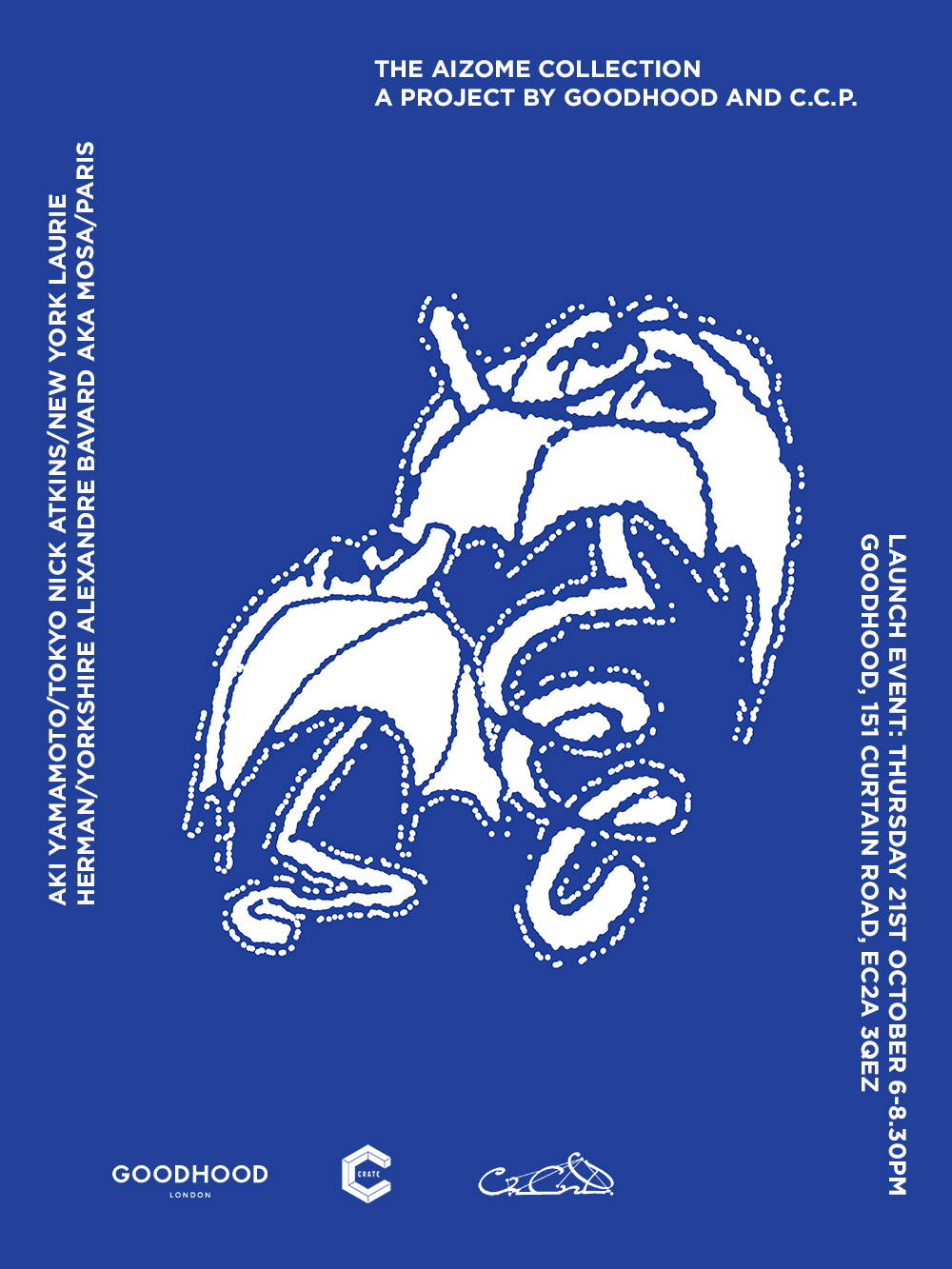 ---
Join us in-store to celebrate the launch of Goodhood x C.C.P.

Thursday 21st October, 6.30-8.30pm
Goodhood, 151 Curtain Road, EC2A 3QE
Beers courtesy of Crate Brewery.
---
---
---