Features
With a clear vision - fusing contemporary western styles with traditional Japanese design, detailing and materials - Yasuko Furuta founded Toga, which has since produced a number of equally impressive diffusion lines, including Toga Pulla Shoe. Toga's collections take inspiration from vintage elements, brought up to date with contemporary shapes. Here we provide you with a variety of ways to wear the distinctive silhouettes and incorporate the brand's bold designs with effortless ease...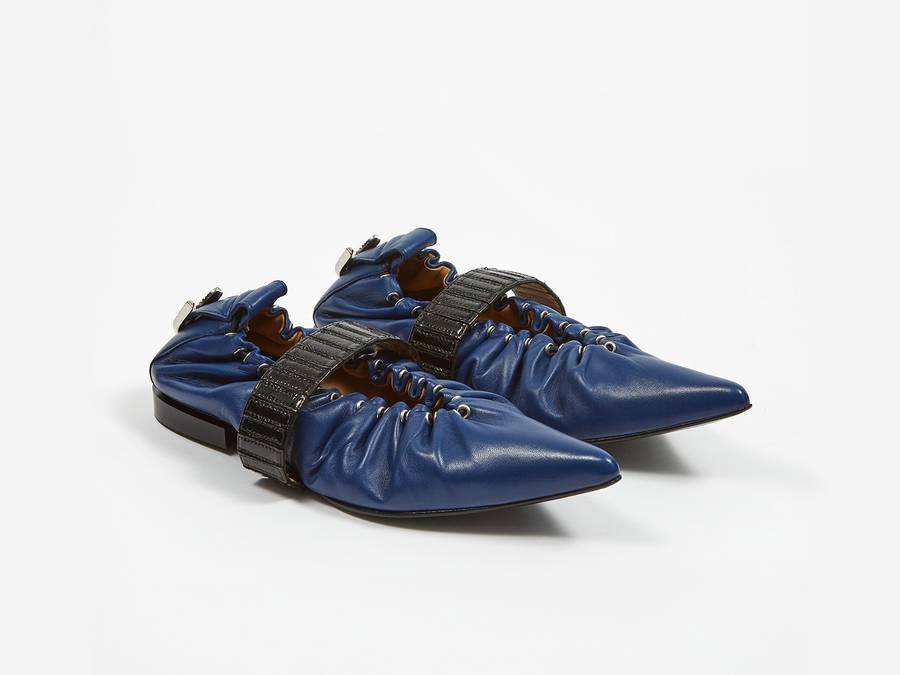 TOGA PULLA - BLUE LEATHER FLATS
Ask us to name one shoe we're excited about this season, and it's probably going to be this one. This rich blue leather flat has an exaggerated pointed toe which may look intimidating to some, but it's surprisingly easy to wear. Thanks to classic Toga styling and detailing, the shoe works perfectly with wardrobe staples for everyday wear, juxtaposed with contrasting checks for work or worn with a tonal block coloured dress at an event.
LOOK ONE
Shirt by Needles, T-shirt by Aries x i-D, Jeans by LF Markey, Sunglasses by Super.
LOOK TWO
Shirt, Trousers, and Bag by Ports 1961, Sunglasses by Brain Dead.
LOOK THREE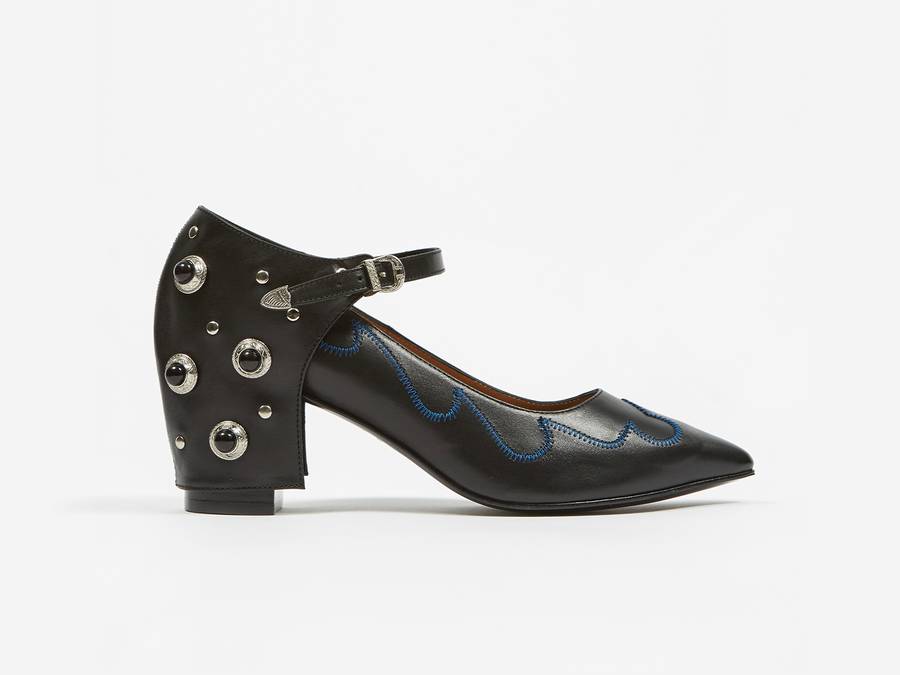 TOGA PULLA - EMBELLISHED SHOE
Without re-inventing the wheel, Toga add some impeccable finishing touches, producing a Western take on a classic heel silhouette. With detachable embellished back, you can wear to suit your look. We like to go all out, but either way it's easy to wear; be it simply, with denim and a lace top, with silk panels for evenings or with black, for a more formal look.
LOOK ONE
Top by Needles, Bra by Baserange, Jeans by Aries.
LOOK TWO
Vest by Stand Alone, Skirt by Aries.
LOOK THREE
Shirt by Nanushka, Trousers by MM6 Maison Margiela.
TOGA PULLA - BUCKLE SANDAL
Inspired by traditional western cowboy styling, this elevated summer staple comes in sleek polished leather, with distinctive metal accents. The combination of Toga's innovative eye for detail and exceptional comfort mean this shoe is effortlessly wearable. We've teamed it up with flowing layers for Summer, with black and white elevated staples for everyday wear and optional layering pieces for evenings and cooler days.
LOOK ONE
Dress by Toga, Trousers by Ports 1961.
LOOK TWO
Vest by Aries, Track Pants by MM6 Maison Margiela.
LOOK THREE
T-shirt by Our Legacy, Shirt by Toga, Trousers by MM6 Maison Margiela, Sunglasses by Sun Buddies.